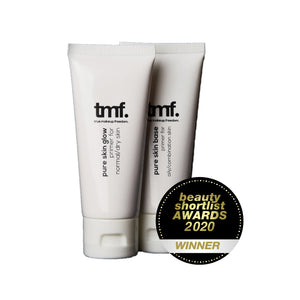 All the beauty of the Pure Skin Base Primer formulation with a little extra glow. Perfect for drier skin or anyone who feels their skin is looking a little dull + lifeless.
This glow cream primer also doubles as a subtle highlighter adding a natural sheen to your cheekbones. we also recommend mixing it with any liquid foundations for an overall dewy, fresh look.
TMF's lightweight + skin protective cream infused with aloe vera juice (heals and protects); coconut oil (encourages moisture retention); kakadu plum extract (the richest source of vitamin c + protector against free radicals; apricot kernel oil (a must have for sensitive skin + essential fatty acid); green tea extract (boasting anti-inflammatory + antioxidant properties); panthenol (hydrates); pumpkin oil (regenerates, hydrates + protects), rosehip oil (naturally high in vitamin c); argan oil (rich in vitamin e + essential fatty acids) + camellia oil (an anti oxidant + anti inflammatory).
100% vegan, clean + cruelty free. made in Australia + fresh from the TMF lab.
How to Use
Apply pureskin glow in a thin layer + allow to dry before applying the  vegan skin perfector, dream conceal or flawless mineral powder foundation. For a cream highlight, mix a little art series pigment in 'baby' (gold sheen) or 'edie' (pale opal pink) + apply to your cheekbones or mix with tmf vegan skin perfector serum foundation for a super powerful glow.
 As with anything natural, please ensure you shake the primers before application.